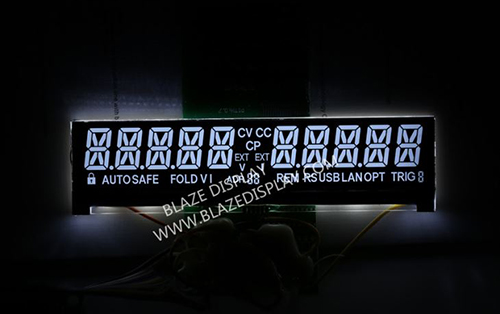 VATN (also named EBTN, Enhanced Black TN) LCDs
VATN (also named EBTN, Enhanced Black TN) LCD technology is one of the best negative image, high contrast display technologies. VATN has a super high contrast ration at 1000:1. This exceeds conventional negative TN, STN and FSTN technology. The high performance of VATN LCD provides an ideal choice for applications ranging from watches to automotive.
Features of VATN LCD Display:
- High dark background- Wide operating temperature (-40°C to 85°C)
- Wide viewing angle (3-side optimized) Up/down: 60° / 85° Left/right: 85° / 85°- Super high contrast (1000:1)- No temperature compensation required
- Available in icons, 7-segment and graphic type up to 1/64 duty
Blaze Display is one of the best VATN lcd display glass panel manufacturers and suppliers in China. We are always at your service.